City​ Girl on a Goat Farm
My friend Ellyn loves horses, goats, cows, ducks, chickens, barn cats and everything that crawls and creeps in nature. She's an animal person.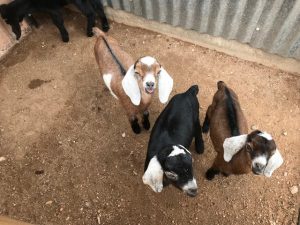 I like small dogs who don't jump up and knock me over, friendly cats that let me scratch their belly and birds in their natural habitat. And zoos. I like zoos because there's a cage between me and the beautiful creatures.
Through miscommunication, a frantic schedule and inattention, I have found myself for two weeks at a goat farm in New Mexico fifteen minutes from town! More like twenty. Yes, it's ten acres in the middle of nowhere. With a lot of dust. And the whiff of doody in the air. And bleating goats.
Let's be clear. I thought I was a ten-minute walk into the downtown Santa Fe Plaza. How lovely to stroll into the square and surrounding sausage-packed streets to shop for a restaurant that features fresh poblano chilis, mesquite chicken, and other smoky New Mexico flavors. And yes, I brought the wardrobe for the artsy community: white capris, cute sandals and a rainbow of shawls. No jeans, boots, cowboy hat. Yes, I have those, but they're all safely tucked away in my closet at home.
Yesterday I bottle fed five one-week-old kids who snuggled into my arms for warmth. Time stopped. Nothing else mattered but making sure these baby goats got enough mama's milk during three feedings a day. I watched their tiny bellies pouch up with milk and learned they have to be put immediately into their pen because when their feet touch the ground, they pee. A lot.
New experiences heighten awareness. A sense of humor helps. I am exactly where I'm supposed to be. Adventures abound. And, there's a sweet cool breeze teasing my shoulders, along with a waft of goat droppings that reminds me, yes, I'm alive!