Cleaning Up Your Room
It is our responsibility to clean up our clutter.
Your kids say they don't want your stuff. What? My treasures collected from travels to exotic places, art that moved me and furniture that has memories, no longer hold value?
I have my mother's Brancusi ashtray, files filled with music from my father's career as a pianist, numerous abstract paintings from my mother, wedding gifts from Bailey, Banks and Biddle in Philadelphia from my husband's family and three thousand loose photographs.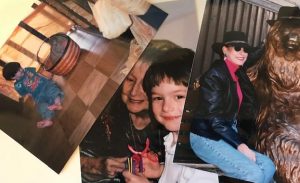 I had an epiphany. No one is going to go through all of our belongings and "feel joy," that elusive emotion Marie Kondo of "Tidying Up" claims is the ultimate when space has been cleared, closets reorganized and papers discarded. Yet, this petite Japanese woman has inspired me. I want that overwhelming peace she describes when space is organized.
Kondo has her methods and I have mine. I started with the garage because there were four generations of photos in boxes. It took days with many highs and lows going through a panoply of lives stretched out on my commandeered kitchen table. I made piles: people, pets, pre-WWll Europe, vacations and more. I even found my ID card from Shenandoah Junior High sporting cat-eye glasses with rhinestones. Yes, it was emotional and also cathartic. 
What did I do with it all? I tossed it. I took phone photos to send to others, made manila envelopes filled with memorabilia for family members and went to the post office a lot. I got a mountain of photos down to one big box and three cookie tins. It took a few weeks of forty-five minutes a day. Next stop: a bookstore! Let's face it, once you've read it what's the point of keeping it on a shelf? Proof to visitors that you're smart? That you read? That you belonged to a book club?
Our parents were children of the depression who saved rubber bands, paper clips and plastic bags from the newspaper they read every day. They left it all for us. My parents lived in their home for forty years and had overflowing linen closets, packed drawers and a room brimming with musical instruments. It took weeks to clean out. Another friend whose parents passed spent three years sorting through their home and garage filled with plaster-of-Paris nude statues, boxes of buttons and a hall closet bursting with furs. My neighbor passed suddenly during Xmas. Her three grown sons are present every weekend sorting Hummel statues, sorority memorabilia and furniture from the 1960s in the garage. They asked me what to do with three sterling silver teas sets. It's February, folks!
What motivated me to take on such a big project? The fact that as Baby Boomers we are aging, that people have falls, that one doctor visit can change your life. It's imperative we face reality. Life as it is won't go on forever. 
My concern is that this will all be left for a female family member to go through,  burdened by the task, overwhelmed with clothes, dishes and a kitchen drawer that's a sin. They also might not know the sentimental or value of what they're pushing into large black garbage bags. It's not their responsibility to know. It's ours.
It's our duty to clean up rooms for the next generation and, if you are one of the few who think you'll live to be one hundred, surprise! No one stays at the party forever. Sometimes you have to go home to clean up your room! It's inevitable and, another hard fact: it doesn't get easier as we age. You don't want to wait until 80! Do it now!