Trails West: Wagons • Words • Women
HIDDEN ONES—A Veil of Memories won the 2018 WILLA Award for Original Softcover Book. I am honored, especially since there were 2700 entries for five categories! The award is named after Willa Cather who received the Pulitzer Prize in 1923.  She was an independent woman who moved from Red Cloud, Nebraska to New York City and never looked back! Yes, I showed up in Walla Walla, WA  to meet the members who bestowed the honor on me, see the magnificent oak and maple trees that bloomed in a furious fire of colors and explore the city's vintage buildings. There are wineries, cool restaurants, public art and music, too.
It was hosted at the Marcus Whitman Hotel built in 1928. The lobby is dominated by dark wood mahogany pillars which were once painted pink by an errant owner.
Just hanging out made me feel the ancient vibes of women passing as their silk skirts rustled, men in cowboy hats stopping to say, "Howdy, M'am" and the smell of quality cooking making my salivary glands awaken.
I met authors who write about tough women in the Wild West or western romance where strong cowboys take charge or those who just live in western states. They were friendly, intelligent and curious as to what I was doing there since my book is about the Mexican Inquisition. The contest was judged by librarians and academics so they understood how large the Southwest Territories were before we had the actual states of Arizona, New Mexico, Texas and Colorado. There was a large community of misfits in the Rio Arriba area north of Santa Fe. It attracted Plains Indians, runaway slaves, Europeans and people of questionable ethnic background. That would be me!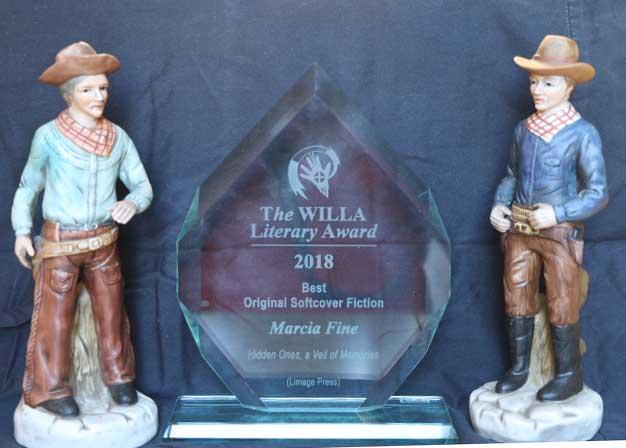 One lovely woman gave me the bisque cowboys I've placed on either side of my award. They're kitsch and so appropriate on my kitchen altar.
We visited the Fort Walla Walla Museum so I could visit a 33-mule team hitched to a combine in a field of wheat, tour a furnished pioneer settlement and joined Lews and Clark on their historic expedition. I spoke about book marketing at the conference and had positive comments. The bookstore set up in the lobby of the hotel was well done–lots to choose from, efficient people at the front and a book signing event so we could all network.
Finally, I'd like to share a few judges' comments:
"A novel that is utterly unique in its story about a Jewish family struggling to survive the Mexican Inquisition. I feel like I learned so much reading this novel about a time period in history that is woefully underrepresented."  And, from another, " This is an incredible story. The characters were wonderfully complex, flawed and engaging. Beautiful storytelling…"